A community fridge has been set up in Ho Chi Minh city to receive and give out food for free to poor laborers in the Covid-19 pandemic.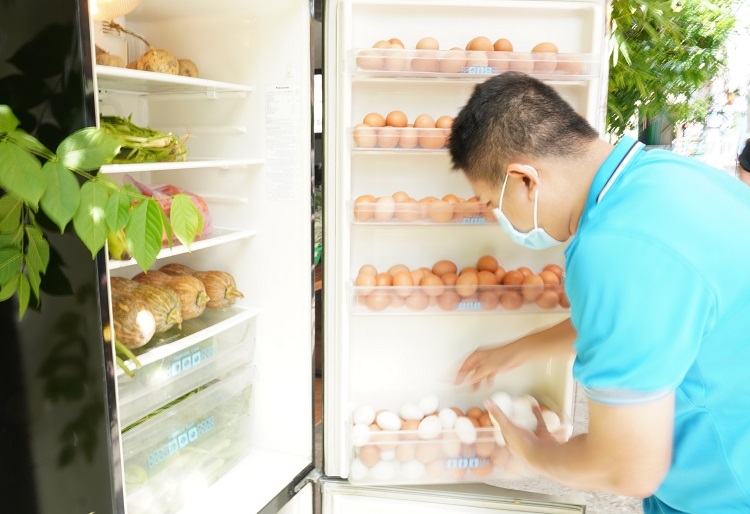 A community fridge in Ho Chi Minh city provides free fruits, vegetables and eggs to poor people. Photo Bao Tin Tuc
Anyone who needs eggs, fruits, vegetables can come to get food inside the fridge. The fridge is put at No 100 Ung Van Khiem street, Binh Thanh street.
Those who want to donate food can also come and put the food in the fridge.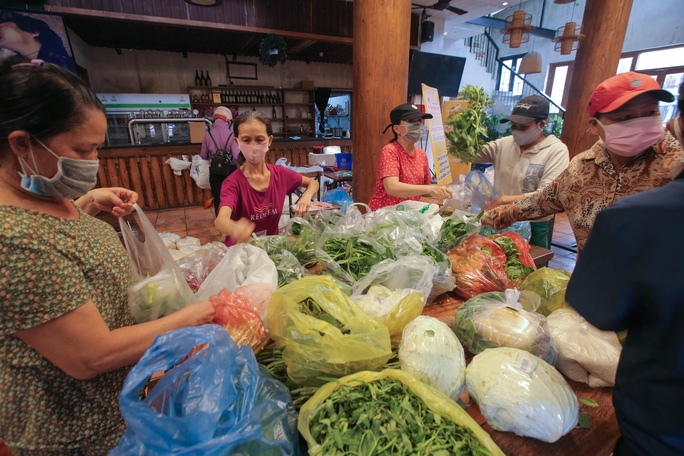 Fresh food is prepared in the fridge and on a table so people can come to get. Photo Nguoi Lao Dong
Nguyen Tuan Khoi, director of Food Bank Vietnam, a non-profit organization distributing food for poor and disadvantaged people and advocating campaigns against food waste in Vietnam, is the founder of the community fridge.
"Instead of giving the labors cooked meal like before, we set up a fridge so that laborers can come to get food, which we think will be a safer solution in the complicated development of the pandemic in the city," he said.
"We hope this will be a practical solution to help people in difficult circumstances quickly overcome the pandemic. We have also prepared more fresh foods outside the fridge. People who come to receive food must follow the 5K message," said Khoi.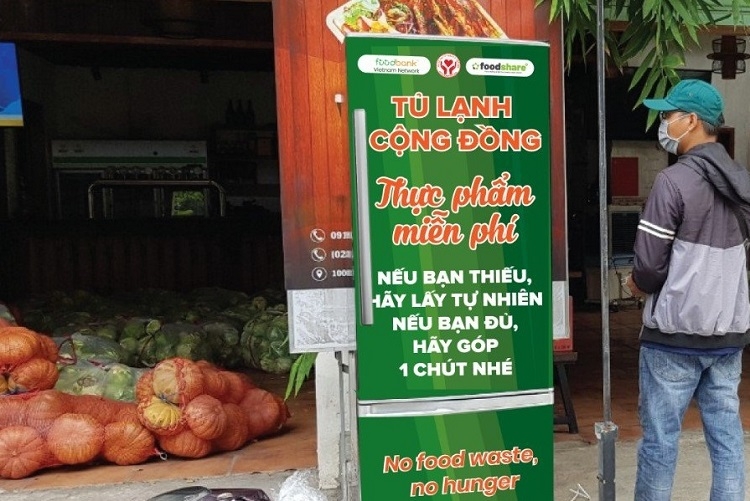 "If you are in need, please come to get food for free. If you have enough, you can make donation," the slogan on the fridge says. Photo Bao Tin Tuc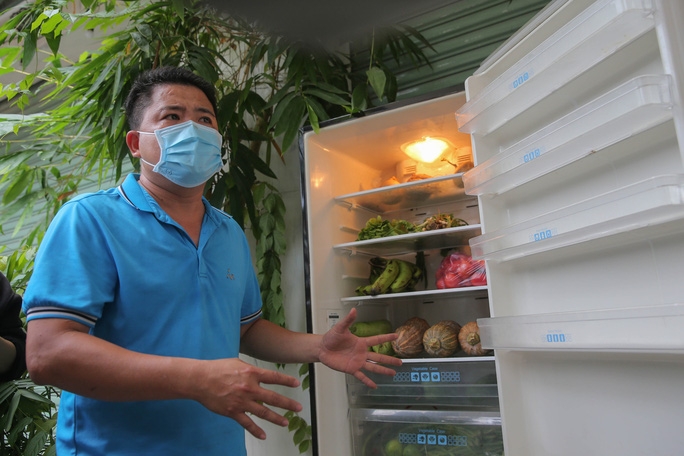 Nguyen Tuan Khoi, director of Food Bank Vietnam, plans to set up more community fridges across the city. Photo Nguoi Lao Dong
The food supply of the fridge comes from food companies and restaurants.
Do Thi Hoa, a Ho Chi Minh ciy's resident, said "I get to know the community fridge on social media. I think this is such a meaningful project for people living in difficult circumstances like me. Thanks to the food, we are no longer afraid of hunger during this pandemic. Today I come here to receive ten eggs and two bunches of vegetables for my neighbor who can't walk and a family living next door to my aunt."
Nguyen Thi Bach Hoa, living in Binh Thach district, said she had lost her job since the city applied social distancing rules while her husband is suffering from a stroke. "Life is getting more difficult. Thanks to the community fridge, I have got food and don't have to go to the market for many times on social distancing days."
"There are many kinds of fruits and vegetables. All are fresh. I've got gourds and pumpkins because they can be kept for a long time," she told Nhan Dan newspaper.
On the first day of opening on June 21, in only a few hours in the afternoon, nearly 300 people came to get food. About 150 pumpkins, 300 gourds, 200kg of cucumbers, 200kg of okra, 200kg of green beans, 2 tons of white cabbage and 2,000 eggs were given for free.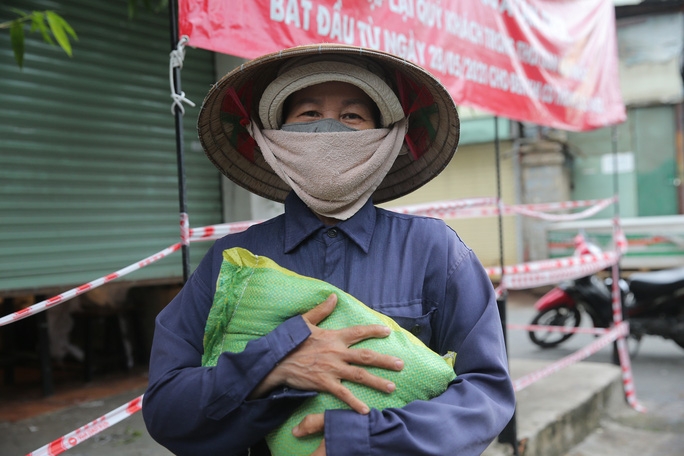 A female laborer gets a bag of rice from the food sharing program of Food Bank Vietnam. Photo Nguoi Lao Dong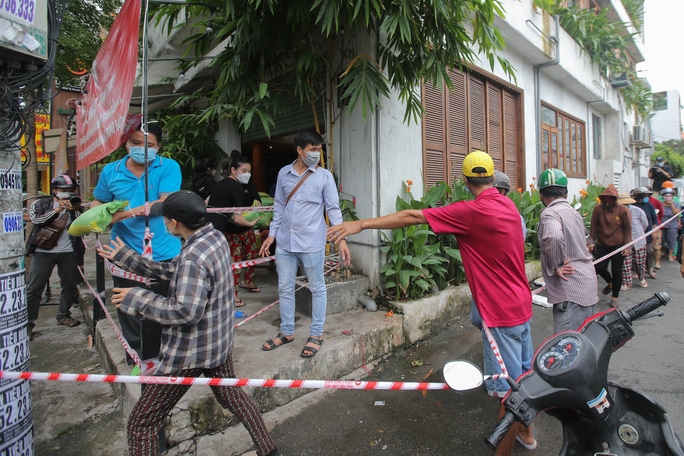 People have to keep distance from each other while waiting for the food. Photo Nguoi Lao Dong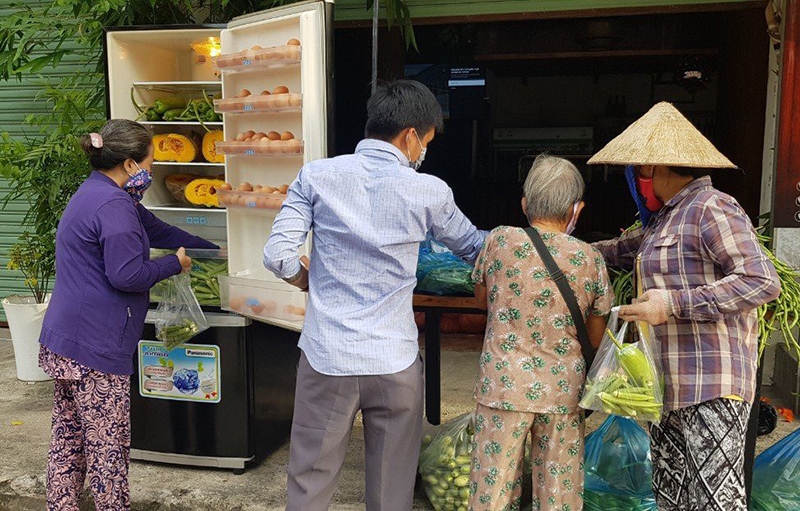 Many people have come to get food. Photo Nhan Dan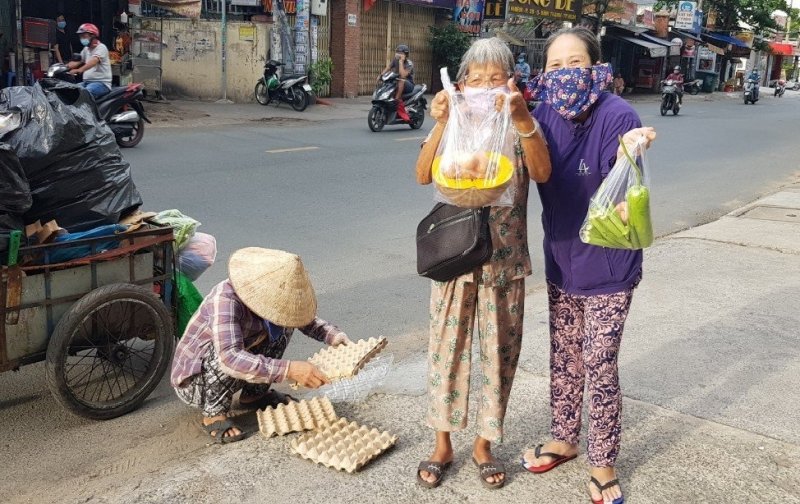 Photo Bao Tin Tuc
The communal fridge will continue to give free food to people in need and is open at 3pm every day.
In order to maintain food sources for people in difficult circumstances, Khoi, the founder, has called on local people to donate unused fridges to set up new ones in public spaces.
"We are getting more and more donated food so we plan to set up ten more fridges across the city," he said.
During the pandemic in Ho Chi Minh city, Food Bank Vietnam has not only offered free food at the community fridge but also cooked 10,000 meals per day for people in lockdown or quarantine areas./.
Community refrigerator is a popular food sharing model in many countries like the US, France and Thailand. Community refrigerators are placed on the sidewalks of cafes, restaurants or any other area that can ensure electricity and security to keep food fresh. People who need food can come and pick up the food, meanwhile, people who want to give food can also leave the food in the fridge. The model is seen as a mini food bank run by local communities.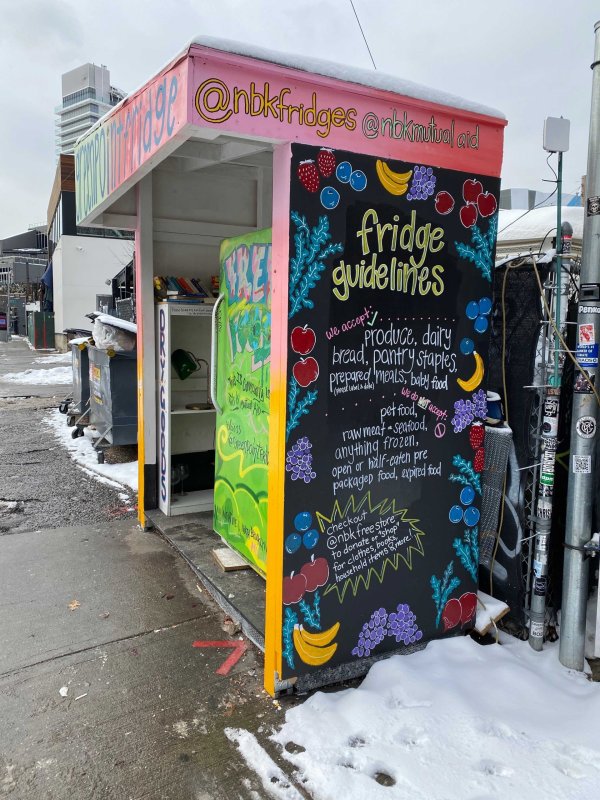 A community fridge in Brooklyn, New York. Photo Global Citizen
The first community fridges were set up in Germany in 2012. Since the outbreak of Covid-19, free fridge programs have sprung up rapidly in many countries.
Rosemary Nguyen – vietreader.com